The Fifteenth Annual
ATLANTA/SOUTHLANDS
ANTIQUE AND CLASSIC BICYCLE
SHOW AND SWAP
MARIETTA NATIONAL GUARD ARMORY
SUNDAY, April 9, 2006 8:00a.m. til 4:00p.m.
PLEASE NOTE! THIS IS THE CORRECT DATE!!!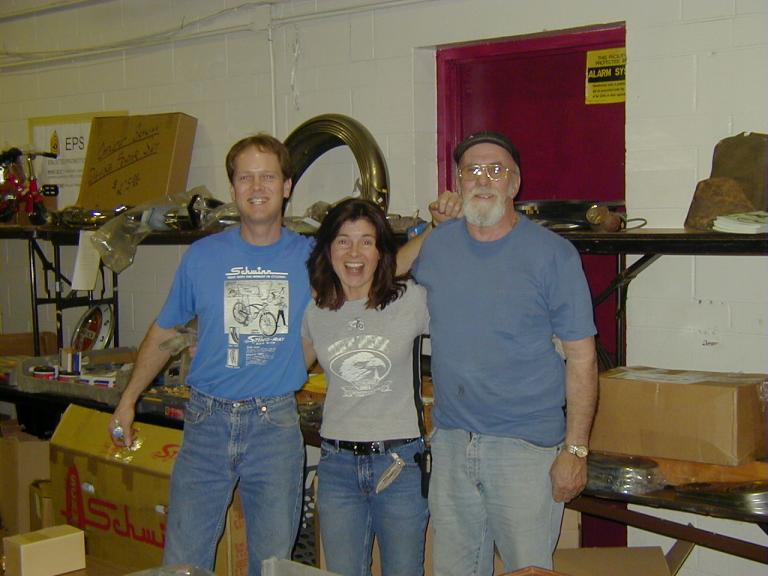 How To Get There

From I-75 north of Atlanta, take Exit 265 (North Marietta Pkwy/Loop 120). Go west approximately 1/2 mile to the intersection of U. S. 41 (big intersection). Go straight across and about 1/2 mile more. Look for the Marietta Power Co. facility on your right. The Armory is behind the Power Co.. Follow the signs and access roads beside the Power Co. to get there.
Special!! Early Bird Day SATURDAY, April 8 / 4:00 p.m. Til 8:00 p.m.
Attention!! The Rust Police will be patrolling. No bike over 75% rusted through allowed in!!
Bonus Vintage Lightweight Section: Featuring a show and swap area to highlight our Euroheads (how many ways can you say Campagnolo?) Go through your garages and show us your leather hairnets, leather toestraps, wool shorts (were these guys into S & M or what?), stuff from when real men raced bikes. Maybe a nice clean Schwinn Varsity, too.
PlaquesWill Be Awarded for the best in the following Show Bike categories:
Chrome Deluxe, Painted Deluxe, Pre Balloon, Post Balloon, Vintage Lightweight, Peoples Choice, Sting Ray Era
FOR ACCOMODATIONS, CHECK HOLIDAY INN (770) 952-7581, LA QUINTA INN (770) 951-0026 OR SCOTTISH INN (770) 952-3365 .........ALL AT EXIT 261, DELK ROAD, OFF OF I-75
---
Vendor Registration / $25.00
Name________________________________________________________________________________

Address______________________________________________________________________________

City__________________________________________________State______________Zip__________
---
Vendors should register and pay by March 31 to guarantee space inside. Please send check or money order payable to:

The Bicycle Club of Atlanta / P. O. Box 12341 / Atlanta, GA 30355
For Info Call: Wayne at 770-973-8330, Buck at 404-252-3432 or Jim at 770-938-3515